Unit Code: OrchidH
Hawaiian Heaven
Reviewed on 2022-08-15 by Jane H. , Middletown, DE United States
Overall
Services from rental manager
Cleanliness
Location
Property condition
Kauai is our favorite place in the world. We love this island and her people. We first came in 1998 and we try to come back every year. We enjoyed days on Anini beach or. Hanalei bay. In the evenings we had wonderful meals at the Dolphin, Tiki Aniki , and Happy Talk, 3 of our favorite spots.
Orchid Hale is a well appointed home located in Princeville. The only thing previous visitors did not show the gas grill much love,it was pretty sad. The dryer was on the fritz, the homeowners were working on getting a new one.
These things did not detract from the rest of the home or the beautiful well maintained property it sits on.
This is a great rental for families. We had our almost 2 year old granddaughter with us, she loved playing in the yard and the park just up the road. There also is a community pool and tennis courts for you to enjoy.
The house also had beach chairs, towels, sand toy, yard games and more!
This home and island has so much to offer we would highly recommend it.


Hawaii vacation
Reviewed on 2022-07-08 by Colleen C. , Davidsonville, MD United States
Overall
Services from rental manager
Cleanliness
Location
Property condition
This place was absolutely amazing. cozy. the kitchen was a dream. plenty of space. everything was clean and in good condition. Loved having beach towels, beach chairs, boogie boards, and games. This is a house worth renting
Amazing house!!
Reviewed on 2022-06-20 by Christie P. , Paradise, CA United States
Overall
Services from rental manager
Cleanliness
Location
Property condition
We really liked this house. We loved that only the master bedroom is upstairs and the other two are downstairs. We so enjoyed being able to walk to Queen's bath and Hideaway beach. It's a short drive to Foodland and Hanalei Bay. Our whole family would recommend this place. (I only wish we didn't have to drop the key off before our early morning flight. )
Gorgeous house
Reviewed on 2022-05-03 by James G. , Fort Worth, TX United States
Overall
Services from rental manager
Cleanliness
Location
Property condition
This was a gorgeous house, like you were in the middle of a rain forest with all the windows and birds and plants outside. Easy walk to the pool and tennis courts which were literally across the street. We spent the day hiking all the nearby trails and beaches then shaved ice and home for the evening . Very relax full vacation with family . Will visit again.
Beautiful home in Princeville
Reviewed on 2021-08-24 by Randy & Mary J. , United States
Overall
Services from rental manager
Cleanliness
Location
Property condition
Beautiful home. Well located. Has everything for a fun family vacation.
Beautiful yard. I would highly recommend this home. More beach towels and Tommy Bahama beach chairs.
Spacious home with great views
Reviewed on 2021-08-13 by , Overland Park, KS United States
Overall
Services from rental manager
Cleanliness
Location
Property condition
I'm all about the views and this house has a great one. Would have enjoyed a bigger patio, but it worked okay. The kitchen was great for cooking and plenty of seating for family dinners. House was spacious for family to spread out and air-conditioning cut the hot humid days. Great for evening walks to enjoy the sunset!!
Beautiful Orchid Halle House!
Reviewed on 2021-07-02 by , Aurora, CO United States
Overall
Services from rental manager
Cleanliness
Location
Property condition
What a wonderful home! The location and views were fantastic! The home was well laid out, and the kitchen was well stocked with everything you could need! The best part, though, was the absolutely LOVELY garden!!! We will be back!
Amazing housse.
Reviewed on 2021-06-28 by Irina S. , Studio City, CA United States
Overall
Cleanliness
Location
Property condition
This house is amazing! It is spacious and has all the amenities we could hope for on our trip. We loved the large gourmet kitchen that was really well equipped and organized and enjoyed the views of the beautiful garden during our meals. The kids had so much fun in the outdoor space playing - there was even a croquet game! We also enjoyed playing tennis and using the pool steps away from the house in the morning or afternoon. The location was very convenient to all the areas we wanted to visit in Princeville / Hanalei. Perfect for morning walks either down to the beach near or up to the local town center / park. The beaches, such as Anini and Tunnels, or local restaurants were a short car ride away. We could not be happier with our stay and would recommend this property to anyone. It is definitely on our return list in our future.
Leave a Review
[2]
Search Availability
Leave Review
[2]
Air Conditioning
North Shore
Air Conditioned, Remodeled, 3200 sq ft, Elegant, Extraordinary Home with Supe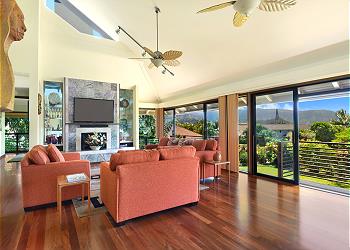 [3]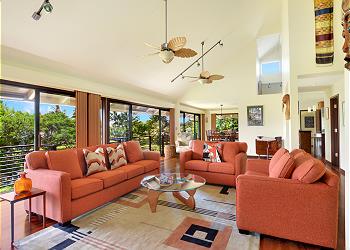 [4]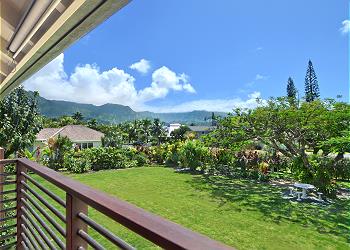 [5]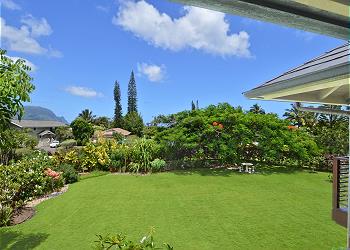 [6]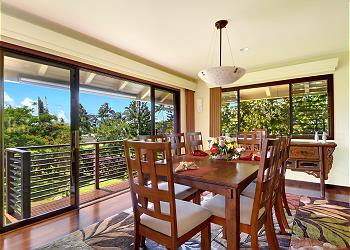 [7]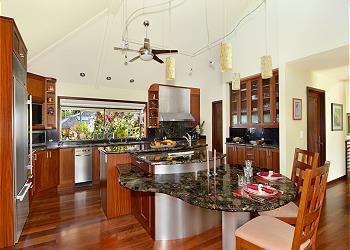 [8]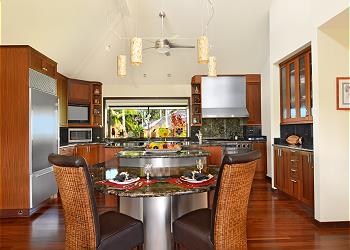 [9]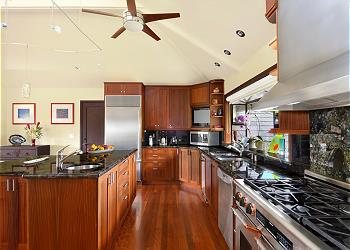 [10]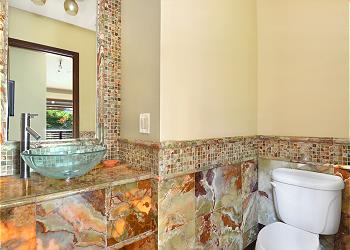 [11]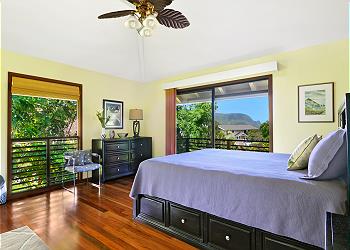 [12]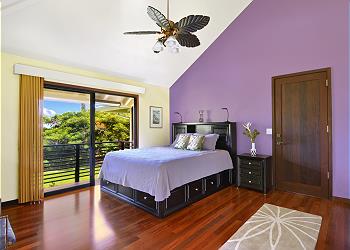 [13]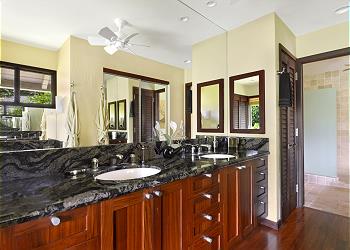 [14]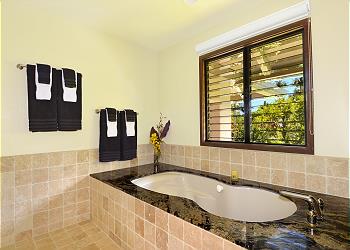 [15]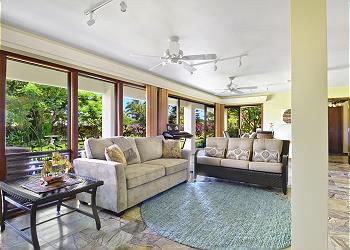 [16]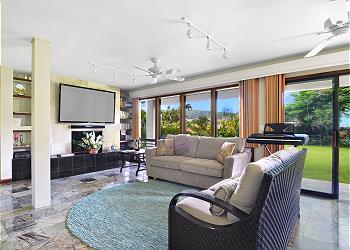 [17]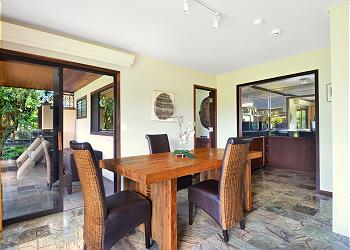 [18]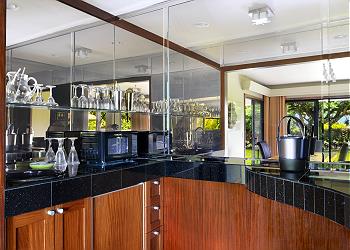 [19]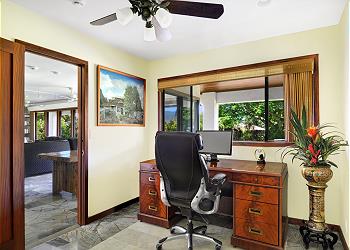 [20]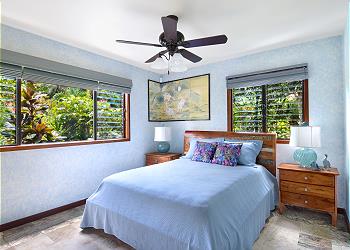 [21]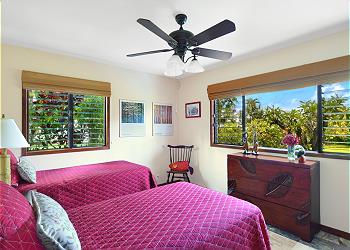 [22]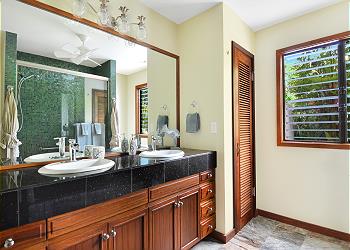 [23]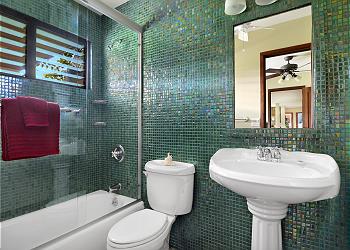 [24]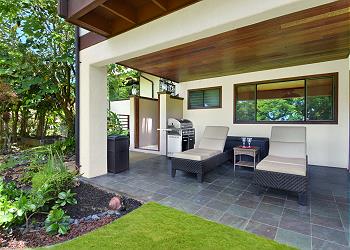 [25]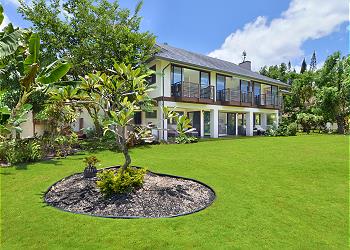 [26]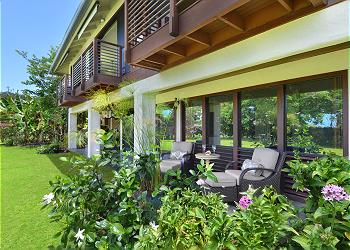 [27]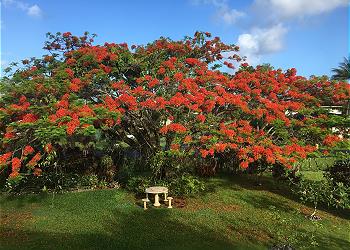 [28]
[29]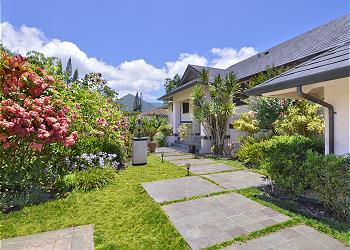 [30]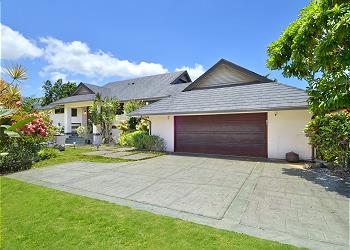 [31]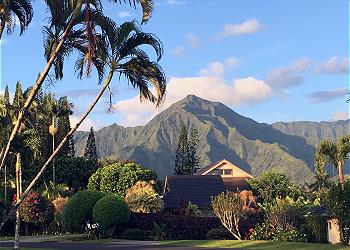 [32]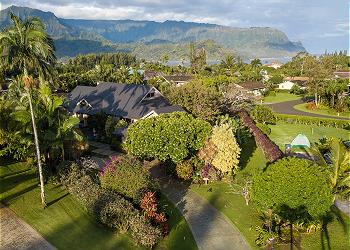 [33]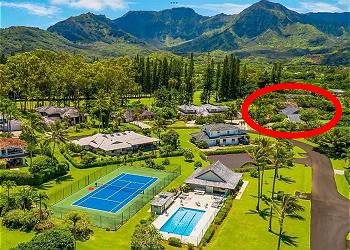 [34]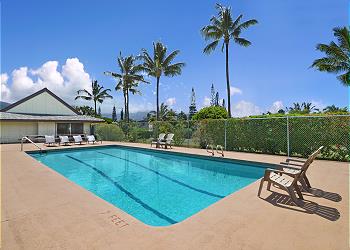 [35]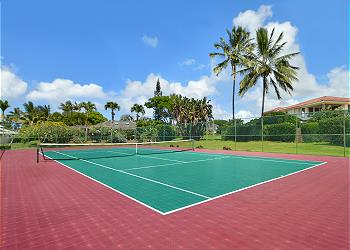 [36]
3 Bedrooms
3.5 Baths
Whether you are traveling with your family, extended family, other couples, best friends or your sweetheart, Orchid Hale is an excellent choice of accommodation.
You will always remember the special time you spend here . . . the spacious elegance, the extravagant feeling of indulging yourself in the comforts and pleasures of this extraordinary home. Pamper yourself . . . you'll be glad you did!
The setting is Princeville on the lush north shore of the "Garden Island." The neighborhood is a small collection of custom homes that share a well maintained swimming pool and tennis court. The views are verdant gardens speckled with the colors of tropical flowers and exotic plants against a backdrop of majestic mountains formed millions of years ago.
This is an air conditioned two-story home of 3200 square feet with a large great room, half-bathroom, kitchen and the master suite upstairs. There is an upstairs living room. The master suite has a TV. Downstairs there are two bedrooms, a large living/family room, a den/office and two bathrooms. So, there is plenty of room for everyone to gather together as well as space for anyone to spend quiet moments with a good book or other peaceful endeavor.
Your home away from home was totally renovated recently and has been designed and furnished with great attention to detail. The exquisite hardwood and marble floors as well as the granite counters in the kitchen and vanities in the bathrooms are both luxurious and practical.
Much thought has gone into the furnishings and over-the-top amenities throughout Orchid Hale; one excellent example is the generously equipped gourmet kitchen. In addition to the essentials like sauce and frying pans, baking dishes and other ovenware, cooking utensils and dishes, you will find an big assortment of small appliances such as a coffee grinder, panini grill, pressure cooker, and slow cooker, to name just a few. The chefs in your group will be delighted!
You may want to check out the Sunshine Markets (farmers' markets) that happen in a different town each week day. That's a great place to find fresh produce to include in your meal plans. And, if you would like to dine out during your stay, there is a nice variety of cafes and restaurants right in Princeville as well as in the neighboring town of Hanalei.
The furnished office downstairs has just what you need in case your visit is partly a working vacation: desk, scanner, large monitor, wireless printer and printer paper. The powerful wireless router is easy to access wherever you are in the house with whatever device you choose.
While you are working, the kids and others in your party can play badminton, croquet and volleyball in the spacious back yard. And indoors, there are board games, a Play Station 3 System with a few PS3 games, an assortment of DVDs you can play on the Blu-Ray/DVD and watch on the 73" TV in the downstairs family room or the 63" TV upstairs in the living room. You may even want to watch some of the movies that have been filmed on Kauai over the years.
Just diagonally across the street are the swimming pool and tennis court. Nearby is Makai Golf Club with its wide open spaces and nicely manicured fairways and greens. Even non-golfers can appreciate the ocean and mountain views along the course. Those who enjoy the game will want to challenge themselves on this recently renovated 18-hole course designed by Robert Trent Jones, Jr. There are many beautiful north shore beaches within a short drive of Orchid Hale. We strongly recommend swimming at beaches with a life guard.
Other activities nearby include kayaking, horseback riding, fishing, surfing, windsurfing, helicopter flightseeing tours, hiking, seasonal swimming, snorkeling and tropical botanical garden tours.
No Smoking
TA-020-235-2640-01
Beds
King 1
Queen 1
Sofa Bed 1
Twin 2
Extra Room
Home Essentials
Air Conditioning
Alarm Clock
Ceiling Fans
Linens Provided
Blu-Ray
Cable TV
Free Parking
Hair Dryer
Ironing Board
Washer & Dryer
Kitchen
Kitchen
Coffee Grinder
Coffee Maker
Granite Countertops
Blender
Dishwasher
Cooler
Microwave
Outside
Beach Chairs
Beach Towels
Beach Umbrella
Deck
Gas Grill
Outdoor Furniture
Outdoor Shower
Patio
Porch/Veranda
Shared Pool
Tennis
Golf
Lawn / Garden
Outdoor Grill
Location:
Orchid Hale
96722
Princeville
,
HI
United States
22° 13' 9.8652" N, 159° 29' 18.7368" W
Hawaii US
Location
Kauai Vacation Rentals & Real Estate, Inc.