Unit Code: Sansei
Kauai getaway
Reviewed on 2021-09-01 by Aileen M. from Riverside, CA United States
Updated on 2021-09-01
Services from rental manager
Cleanliness
Location
Property condition
Awesome stay in beautiful home. Great location!
This is what Kauai is all about!
Reviewed on 2021-08-16 by Abbie L. from Fallbrook, CA United States
Updated on 2021-08-16
Services from rental manager
Cleanliness
Location
Property condition
When we first walked through the door Sansei Hale was beautiful and welcoming and spacious. And WOW... what a view. A peekaboo view of the ocean and a lush, green background with a babbling brook. Super comfortable and had lots of upscale amenities. After more than 10 years of joking that we never have seen a sea turtle, well.... all we had to do was walk out the back late afternoon, hop some rocks downstream and watch as 10-15+ turtles swim upstream to spend the night. The grandkids were super excited. <br/>You couldn't ask for a better property manager. We were a party of 8 and 1 of 3 beach chairs was broken. One message to them and we had brand new beach chairs and umbrella the next day. They responded to 2 other minor issues immediately. It was our best stay in Kauai yet. Still going to sleep with the sounds of the river, albeit, sadly, through our sound machine.
Amazing week staying at Sansei Hale in Poipu!
Reviewed on 2021-06-25 by Jack W. from Mission Viejo, CA United States
Updated on 2021-06-25
Services from rental manager
Cleanliness
Location
Property condition
Sansei Hale is an amazing home located in a peaceful and scenic setting. The home is spacious, clean and includes all the amentities and appliances one needs including AC! Working with KVR staff was easy and professional and answered any and all questions we had. We are repeat customers snd recommend this property to any family looking to rent a home on Kauai,
One of the very best
Reviewed on 2021-06-04 by from Saint George, UT United States
Updated on 2021-06-04
Services from rental manager
Cleanliness
Location
Property condition
While not right on the beach, this home in many ways was more enjoyable. The sounds of the stream outside the windows was as enjoyable as the crashing waves and more serene. Its proximity to wonderful restaurants and a small shopping center were bonuses.
Best vacation in years!
Reviewed on 2021-05-22 by Michael A P. from Paso Robles, CA United States
Updated on 2021-05-22
Services from rental manager
Cleanliness
Location
Property condition
The home we stayed in was beautiful and well-appointed. Microwave oven barbecue everything was in excellent condition. The management company was very attentive and took care of small issue we had with our microwave. This house is amazing. The location right above the river and walking distance to Baby Beach and the beach house restaurant is awesome. Snorkeling tidepooling for crabs and small fish is very close by. Lots of turtles near the beach house restaurant. The upstairs bar was really cool. My daughter turned 21 while we were on the island. We use the bar excessively. V location and the Beautiful home is something everyone wants to have while on vacation. The garage also had many amenities mask fins snorkels boogie boards umbrellas and chairs. And a washer and dryer.
Leave a Review
[2]
Search Availability
Leave Review
[2]
Air Conditioning
South Shore
3D Virtual Tour
[2]
Overlooks the Waikomo Stream - meets the ocean in Turtle Cove, Poipu.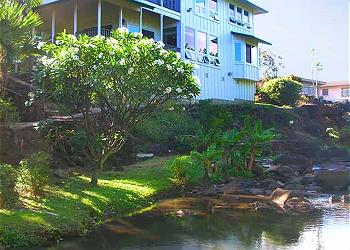 [3]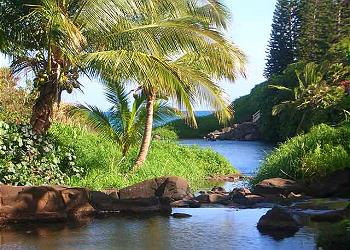 [4]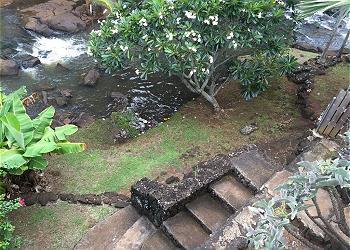 [5]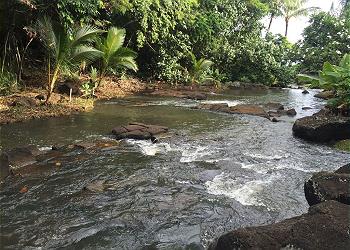 [6]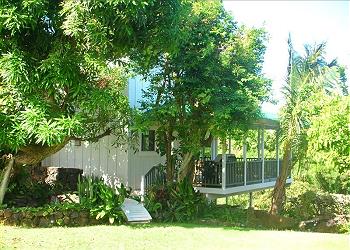 [7]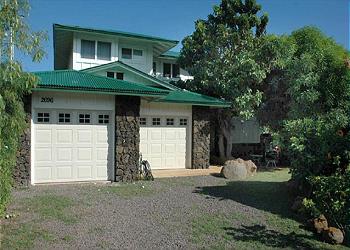 [8]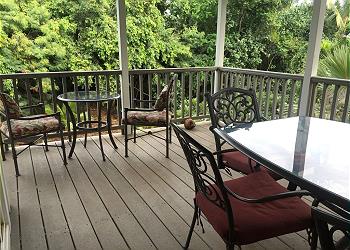 [9]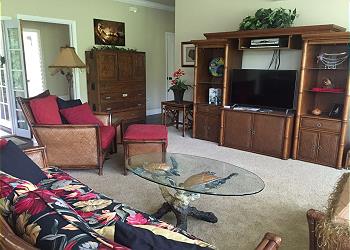 [10]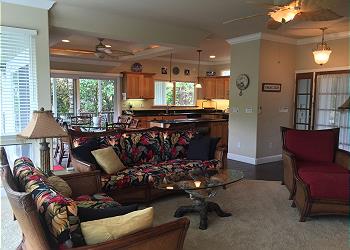 [11]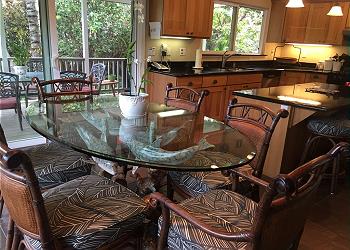 [12]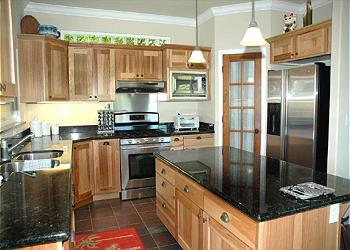 [13]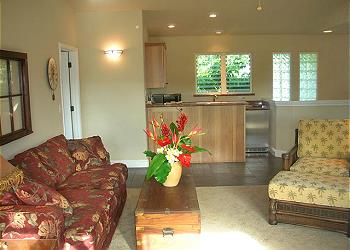 [14]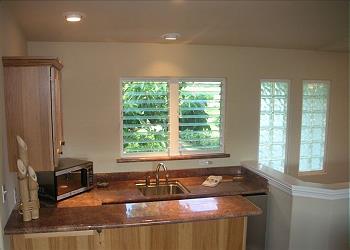 [15]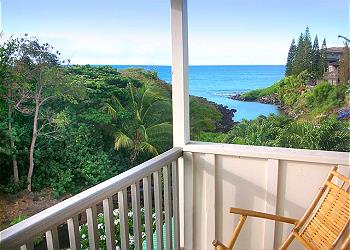 [16]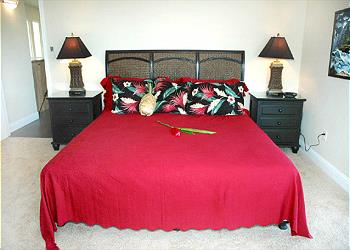 [17]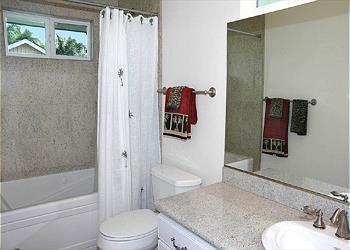 [18]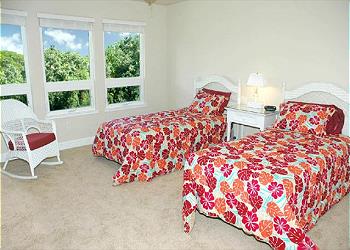 [19]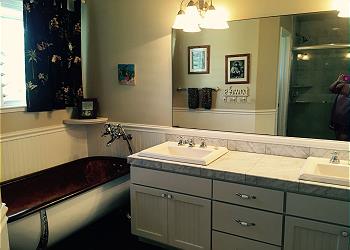 [20]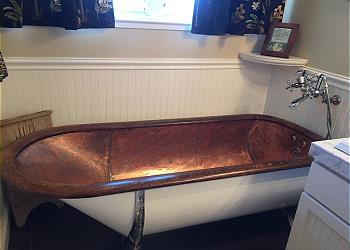 [21]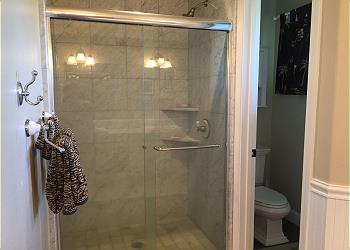 [22]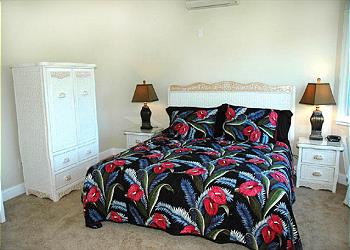 [23]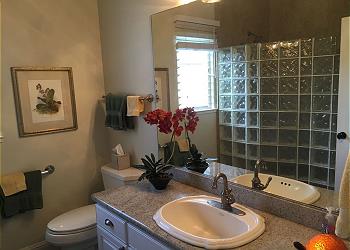 [24]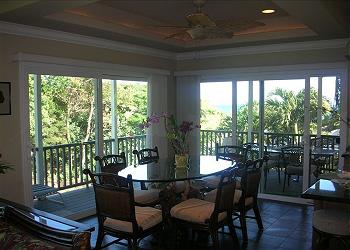 [25]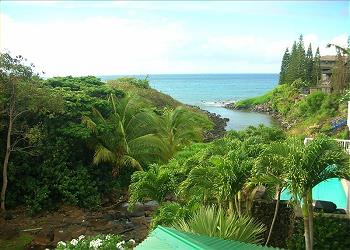 [26]
3 Bedrooms
3 Baths
Sansei Hale (Third Generation House) is a luxury Hawaiiana vacation home. It overlooks the beautiful and private Waikomo Stream as it meets the ocean in secluded Turtle Cove, Poipu. Sansei Hale has three stream- and ocean-view bedrooms, and three bathrooms in a stunning, private setting. Turtle Cove is so named because throughout the year, turtles play in the cove and gather here to sleep on the rocks in the evenings.
The large downstairs area has easy ground-level access which encompasses the living room, kitchen, dining area, one master bedroom and bathroom, and opens to a spacious covered lanai with ocean and river views.
Barbecue on the lanai, watch the stream roll into the Pacific and enjoy the starry nights while falling asleep to the wonderful sounds of the stream and ocean.
The second floor has an ocean-viewing deck, two bedrooms and two bathrooms, and a bonus room with a queen sofa bed. The cathedral-ceiling bonus room also has a wet bar with mini refrigerator and microwave.
The fully equipped kitchen features granite counter tops, with a center island and bar stools facing the water. The dining area, which seats six, is open to a living room featuring an entertainment center with sound system, DVD/VCR and 42" flat screen TV.
High ceilings, tile floors, island style furnishings and accents complement the setting. This delightful, spacious home can accommodate six people, with two king-size beds, two twins, and a queen sofa.
World-famous Poipu Beach Park, Spouting Horn and the National Tropical Botanical Gardens are all about a mile from the house. Baby Beach is a short walk away. Koloa Landing, an excellent snorkeling and shore scuba diving spot, is just off shore of the river mouth which is adjacent to the house.
Tennis, golf (including Poipu Bay Resort Course, former home of PGA Grand Slam), and excellent surfing are within minutes, yet the setting is very private. Fine dining abounds, ranging from elegant to casual, garden settings to oceanfront.
TVNCU# 5031 ... 24/7 On-island contact: Kauai Vacation RentalsTAT# 111-054-0288-01
Home Essentials
Air Conditioning
Ceiling Fans
Linens Provided
Cable TV
Free Parking
Hair Dryer
Ironing Board
Telephone
Washer & Dryer
Kitchen
Kitchen
Coffee Maker
Blender
Dishwasher
Microwave
Outside
Balcony
Beach Chairs
Beach Towels
Deck
Gas Grill
Outdoor Grill
Location:
Sansei Hale
96756
Koloa
,
HI
United States
21° 52' 49.7496" N, 159° 28' 10.452" W
Hawaii US
Location
Kauai Vacation Rentals & Real Estate, Inc.