Unit Code: Pukalani
Fantastic Condo!!!
Reviewed on 2022-06-17 by Jerry & Lisa S. , Sherman, TX United States
Overall
Services from rental manager
Cleanliness
Location
Property condition
Our family had an amazing vacation at Pukalani! The condo has all that we needed and more! The view was breathtaking and the condo is excellently maintained. We had a mishap (which ended up being our own fault) and the owner was on the phone handling it in no time! Talk about incredible! Needless to say, if we ever go back to Kauai, we will most definitely be booking this condo again! I can see why they have repeat guests constantly!
Pukalani: Always Perfect
Reviewed on 2022-05-17 by Rich B. , Saratoga, CA United States
Overall
Services from rental manager
Cleanliness
Location
Property condition
We are regulars here. We always love it. Perfect views, quiet, relaxed and very private.
Kauai Stay
Reviewed on 2021-09-27 by Phil A. , Centennial, CO United States
Overall
Services from rental manager
Cleanliness
Location
Property condition
The condo was amazing, pictures really do not do it justice. The view was incredible and the staff at the property were very friendly and helpful.
Best views in Lihue!
Reviewed on 2021-09-15 by Jacie D. , Spokane, WA United States
Overall
Services from rental manager
Cleanliness
Location
Property condition
We really enjoyed mornings on the lanai watching the changing sky over the gorgeous view of harbor, mountains and golf course. So much to watch and so beautiful! Very nice 2 bedroom with wonderful kitchen and open living room. Next time we come to Kauai we will stay here again! Oh and the pool is great too. Complex is very nicely landscaped.
Fabulous
Reviewed on 2021-06-02 by Ken W. , Tucson, AZ United States
Overall
Services from rental manager
Cleanliness
Location
Property condition
The condo was great and the view from the lanai was beautiful. Much time was spent sitting on the lanai just enjoying the weather and views. A very comfortable and relaxing experience.
We love Pukalani!
Reviewed on 2021-04-24 by Rich B. , Saratoga, CA United States
Overall
Services from rental manager
Cleanliness
Location
Property condition
We've been to most of the islands, but Kauai is our favorite. And, we've stayed at many places on Kauai, from the West side to Hanalei. By far, Ron and Alice's place in Kauai Lagoons is our favorite.
First and foremost, the views are absolutely breathtaking. You will be hard-pressed to find better views anywhere. 180 degrees of ocean, mountains and the small Nawilili harbor.
Next, the Kauai Lagoons "resort." When we think of Hawaiian resorts, we think huge hotels, crowded pools and lots of noise. This "resort" is tiny in comparison, very quiet and very peaceful. There are a few activities, but the place doesn't pretend to be a holiday host. You'll find a lot of people reading, relaxing, using the pool and Jacuzzi attached, working out in the gym, and maybe playing golf.
The Pukalani condo has the most private and best views in the Lagoons. Unlike most of the other condos, you won't have anyone walking past you. The condo is immaculate and laid-out perfectly for one or two couples (or, a couple and kids). It has a feeling more like a private home than a "resort condo." It is fully equipped for cooking, with a zillion utensils, storage items, coffee maker, blender, etc.
The in-room washer and dryer are full-sized and really convenient. Televisions, with all the channels you could ever want, are in both bedrooms and the main room. Fast, free internet gets you streaming. But, you won't waste your time watching or streaming.
Pukalani is central to Kauai, so getting to Princeville or Waimea Canyon are equally accessible; food shopping (Safeway, Costco, Walmart, etc.) is a 10 minutes drive. And yet, the feeling is you are in a remote hideaway.
We truly love Pukalani. Ron and Alice are great hosts with the best condo at Kauai Lagoons. We think you'll love this place as well.
Leave a Review
[2]
Search Availability
Leave Review
[2]
Air Conditioning
East Side
Pukalani, A Marriott Grand Resort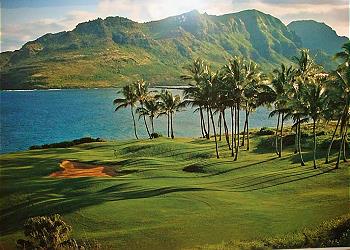 [3]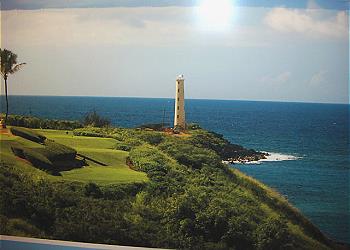 [4]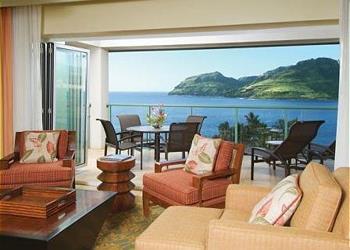 [5]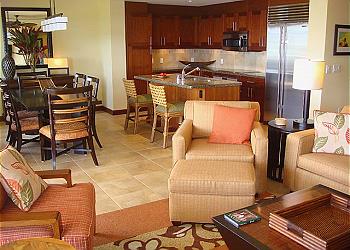 [6]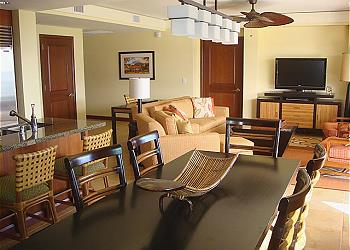 [7]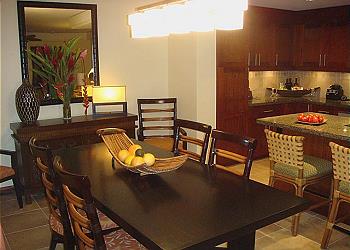 [8]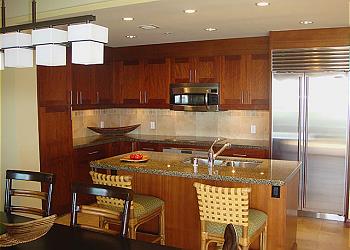 [9]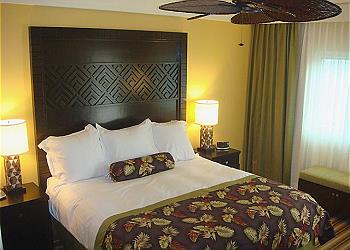 [10]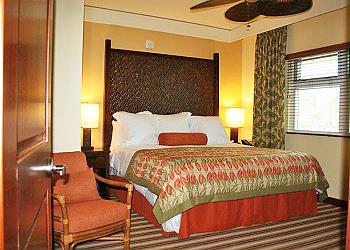 [11]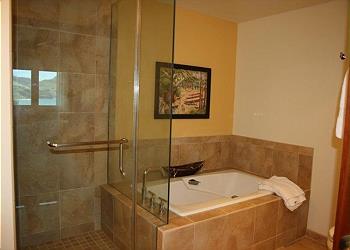 [12]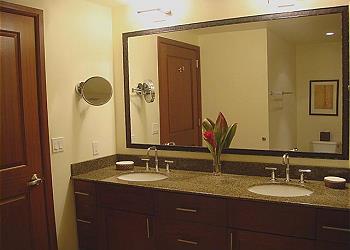 [13]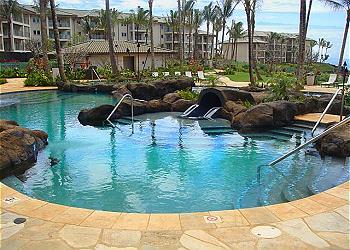 [14]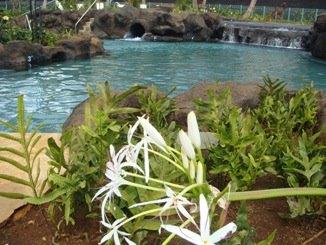 [15]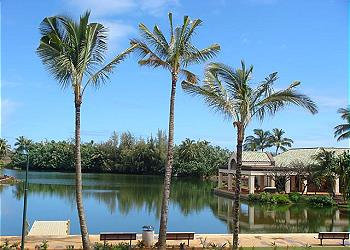 [16]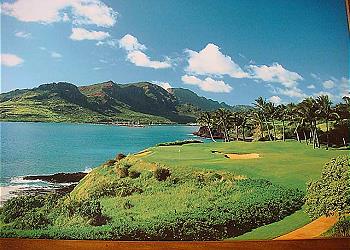 [17]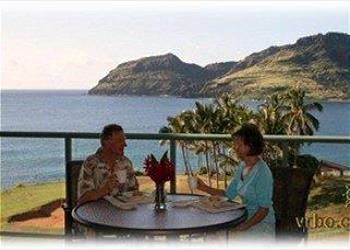 [18]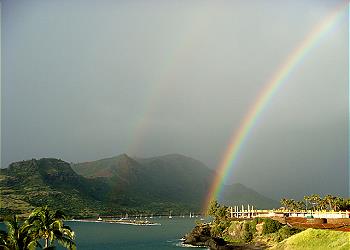 [19]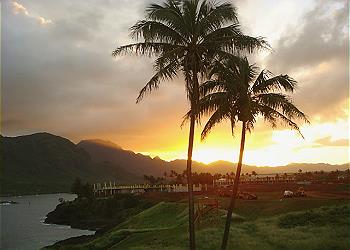 [20]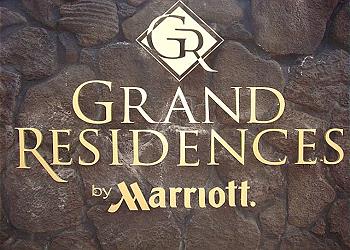 [21]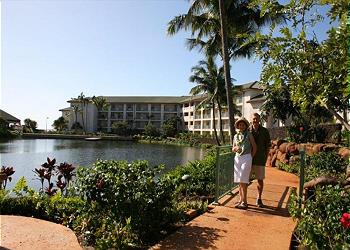 [22]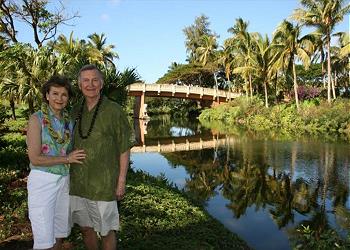 [23]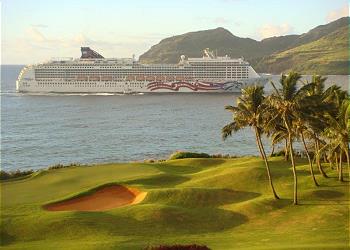 [24]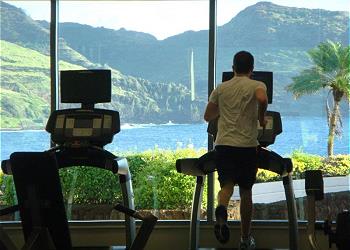 [25]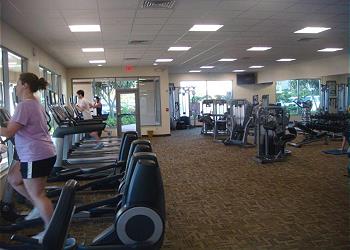 [26]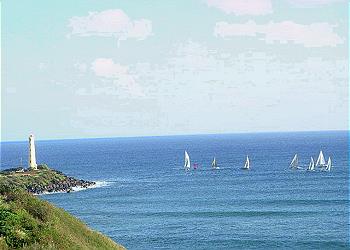 [27]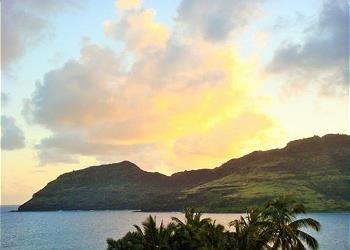 [28]
2 Bedrooms
2 Baths
Surrounded by an awesome panorama of mother nature's splendor, this deluxe, air-conditioned condo is an excellent choice for your visit to Kauai. Elegant furnishings and state-of-the-art appliances help create a luxurious yet comfortable setting where you can enjoy the tranquil beauty of the "Garden Island."
Experience total relaxation in this truly unique setting. Lounge on your private lanai 100 feet above the Pacific Ocean and savor the breath-taking views all around you -- the beautiful Pacific Ocean and Kalapaki Bay, impressive mountains across the bay, lush fairways and greens of the Jack Nicklaus-designed golf courses at Kauai Lagoons and, out on the point, you can see Kukii Lighthouse. The folding lanai doors allow for open-air living.
A leisurely stroll of the well manicured grounds takes you through a lush, tropical oasis of colorful foliage and 40 acres of fresh water lagoons. Uniquely designed, the swimming pool is a perfect complement to the natural beauty of its surroundings and the unmistakable Hawaiian ambiance. This two-level infinity pool has a waterfall and small slide. Relax in the hot tub and feel rejuvenated in minutes. The men's and women's poolside locker rooms have showers for your convenience.
You can stay fit as a fiddle using the new fitness center that is just steps away from the condo and has lovely ocean and lake views.
Your fully equipped gourmet kitchen, complete with state-of-the-art appliances and granite countertops, may inspire the chef in you to create. You may want to visit one of Kauai's Sunshine Markets for fresh, local produce to include in your culinary creations. These Sunshine Markets are held in different towns around the island each weekday. There are 4 shared BBQ grills nearby so you can sizzle up your favorite grilled specialties.
The condo has wonderful mountain views across the bay, and two ocean front golf holes of the 18 hole Jack Nicklaus Kiele, now called Hokuala, golf course in front of you. Even the back door has a great view of the 38 acre Kauai Lagoons with manicured grounds and secluded walking trails.
Guest comments: "The view is beautiful and the condo exquisitely decorated. I enjoyed my time here with my sister and my mother. It was a girls week I won't soon forget." Lisa P., California
"After 8 visits to Kauai, we've finally found the perfect place -- your true piece of Heaven. Thank you for allowing us to spend 5 unforgettable days at your 'hideaway.' We'll be back again for a much longer time soon." Joe K., California
"We loved our stay in Hawaii, we could not have asked for a more beautiful place to stay. The view was awesome and we actually saw whales! We so enjoyed ourselves, what a vacation/holiday. We will be back!" Lynn A., Texas
"Breathtakingly Beautiful. The lanai was off the chart. I could have spent the entire week soaking up the sights from the lanai, so peaceful and serene for lounging, reading, napping, eating and entertaining. Thank you." Ray Y., California
TA-044-262-6048-01
Home Essentials
Air Conditioning
Ceiling Fans
Linens Provided
Cable TV
2nd Floor
Free Parking
Hair Dryer
Ironing Board
Telephone
Washer & Dryer
Kitchen
Coffee Maker
Blender
Dishwasher
Microwave
Outside
BBQ Grill
Beach Towels
Deck
Hot Tub
Shared Pool
Location:
Pukalani, A Marriott Grand Res
3325 Holokawelu Way #1202
96766
Lihue
,
HI
United States
21° 58' 51.9996" N, 159° 22' 15.9996" W
Hawaii US
Location
Kauai Vacation Rentals & Real Estate, Inc.